Covid-19
Mallari Tax & Accounting
Updates from the San Francisco District Office
Frequently Asked Questions about the Paycheck Protection Program and Economic Injury Disaster Loan Program Lapse in Appropriations
At this time, by law, the SBA will not be able to issue new loan approvals for our disaster lending programs once the programs experience a lapse in appropriations.  Due to limited funding, the application portal for the EIDL–COVID-19 assistance program (EIDL loans and EIDL Advances) is temporarily closed. We are also not accepting additional  Paycheck Protection Program (PPP) applications from participating lenders at this time until additional funding is authorized.

You can read the statement issued by our Administrator Jovita Carranza about the lapse in appropriations here.    If additional funding is appropriated by congress the programs will resume in accordance with that appropriation. 
 
Below are a few answers to common questions about what this means:
Q: I have already submitted an application to the PPP with my lender. Does this mean I will not be funded?


 A: For Paycheck Protection Loans, only approved loans are being processed at this time. Applicants will need to consult with their lender as the lender is the one approving the loan.

Q: I have already submitted an application to the Economic Injury Disaster Loan Program with SBA. Does this mean I will not be considered?


 A: No.  Economic Injury Disaster Loan applications are continuing to be reviewed, approved, and funded on a first come, first serve basis.  In order to ensure funding to those who already applied, new applications were no longer accepted starting last Thursday. 

However, all applicants must still be approved for funding by SBA and can check on their application with the Office of Disaster Assistance at 1-800-659-2955.

Q: Will there be more money made available for PPP?


A: Maybe. Congress is currently negotiating another stimulus bill.  We do not know the details and cannot comment or speculate on pending legislation. 

Q: Can I still apply for PPP and have my application held until there is additional funding?


A: By law, the SBA will not be able to issue new loan approvals once the programs experience a lapse in appropriations.  SBA will not be creating a queue.  Some individual lenders may be choosing to in anticipation of additional funding.

Q: I can't find the EIDL application


A: The application is temporarily closed. SBA is unable to accept new applications at this time for the Economic Injury Disaster Loan (EIDL)-COVID-19 related assistance program (including EIDL Advances) based on available appropriations funding.

Q: I already submitted my EIDL application but haven't heard back from SBA yet.  Is my application still being processed?


A: Yes.  All applications received are being processed.  For an update on an application applicants must call 1-800-659-2955 and speak with the Office of Disaster Assistance. 
—
New PPP data released for the full initial appropriation window. Over $33 billion was approved for more than 112,000 businesses in California over the past three weeks. 
Newly updated data showing the full usage of the PPP program over its initial funding window was released last week.  The new data includes breakouts by industry, state, and loan size.
(see the April 14th report here)
—
SBA Office of Inspector General Releases Alert for Business Owners on Scams and Frauds
 Fraudsters have already begun targeting small business owners during these economically difficult times.  Be on the lookout for grant fraud, loan fraud, and phishing.
Grants
SBA does not initiate contact on either 7a or Disaster loans or grants.  If you are proactively contacted by someone claiming to be from the SBA, suspect fraud.
Loans
If you are contacted by someone promising to get approval of an SBA loan, but requires any payment up front or offers a high interest bridge loan in the interim, suspect fraud.
SBA limits the fees a broker can charge a borrower to 3% for loans $50,000 or less and 2% for loans $50,000 to $1,000,000 with an additional ¼% on amounts over $1,000,000.  Any attempt to charge more than these fees is inappropriate.
If you have a question about getting a SBA disaster loan, call 800-659-2955 or send an email to disastercustomerservice@sba.gov.
If you have questions about other SBA lending products, call SBA's Answer Desk at 800-827-5722 or send an email to answerdesk@sba.gov.
Report any suspected fraud to OIG's Hotline at 800-767-0385 or online
—
Comparisons of the Paycheck Protection Program and Economic Injury Disaster Loan Program
The SBA cannot accept PPP applications directly.  Business owners must apply and be accepted by a lending partner and each lending partner is different in terms of how they choose to extend the PPP program to clients.  SBA does not require lenders to limit the program to existing customers, but some have chosen to do that at their own discretion.
 A full list of participating banks is on the SBA website, you can find a list of the top local SBA lenders here, or a list of all of the local SBA lenders in our resource guide.


Our  Small Business Development Centers (1-833-ASK-SBDC) are also actively connecting business owners to lenders as they find them.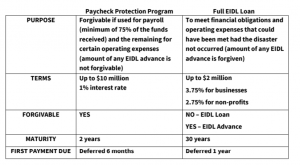 Since March 17, SBA has taken the following major steps to support business owners:
—
As a public service, the SBA may provide links to other organizations that provide information of benefit to small businesses. The links below are external links. They do not constitute an endorsement by the SBA of the opinions, products or services presented on the external sites, or of any sites linked to it.
Updates from throughout the region
Northern California Small Business Development Center Launches Small Business Hotline and rapid response website
You can now call 833-ASK-SBDC (833.275.7232) to reach the Northern California Small Business Development Center's hotline for SBDC support and business financial urgent care.  Partners are welcome and encouraged to share this resource with their clients.  There are two email addresses as well that are being served by the hotline as well.
Email loans@asksbdc.com for assistance with available loans.
Email espanol@asksbdc.com para asistencia en español.
—
The Governor's Office of Business and Economic Development is compiling updates, programs, and guidance for employers across state agencies
The Governor's Office of Business and Economic Development has compiled helpful information for employers, employees and all Californians as it relates to the COVID-19 outbreak.  They have recently updated and included these resources on a new website dedicated to COVID-19 news.
New programs and updates are being made to this page often. Since the last update changes have been made to this place.
—
Benefits for Workers Impacted by COVID-19
The California Labor and Workforce Development Agency is keeping a central summary chart of resources available to employees from different state and federal programs.  Employers should share this resource with their employees.
—
Collections of Coronavirus Small Business Resources
Small Business Supporters throughout California have been consolidating some of the programs and options being made available to businesses in response to the Coronavirus impacts on business owners. Here are some of the consolidated resource guides to different programs that have started in the past week:
Community Resources
San Francisco District Office Contacts
U.S. Small Business Administration San Francisco District Office
455 Market St, Suite 600
San Francisco, CA 94501
Phone: 415-744-6820
sfomail@sba.gov
sba.gov/ca/sf
FAQ About Stimulus Checks
Companies Laying Off Their Employees
Another 6.6M Jobless Claims This Week
In the last three weeks it's been:
-3,283,000
-6,867,000
-6,606,000
=~16,756,000
Before this crisis, the previous record for people that lost their job in a week was in the Great Recession with peak of 665,000 in March 2009.
The three-week tally implies an unemployment rate of around 13% or 14%, surpassing the 10% peak reached in last recession.
Remember, only about 150-160M people had jobs In January 2020.
These companies NEED our help.
Remember, we're helping with.
-Relief Lending Consulting
-CARES Act Consulting
-COVID-19 Forecast Consulting
AND TO HELP them make decisions to make it through this…
INCREASE REVENUES/CASH FLOW
REDUCE COSTS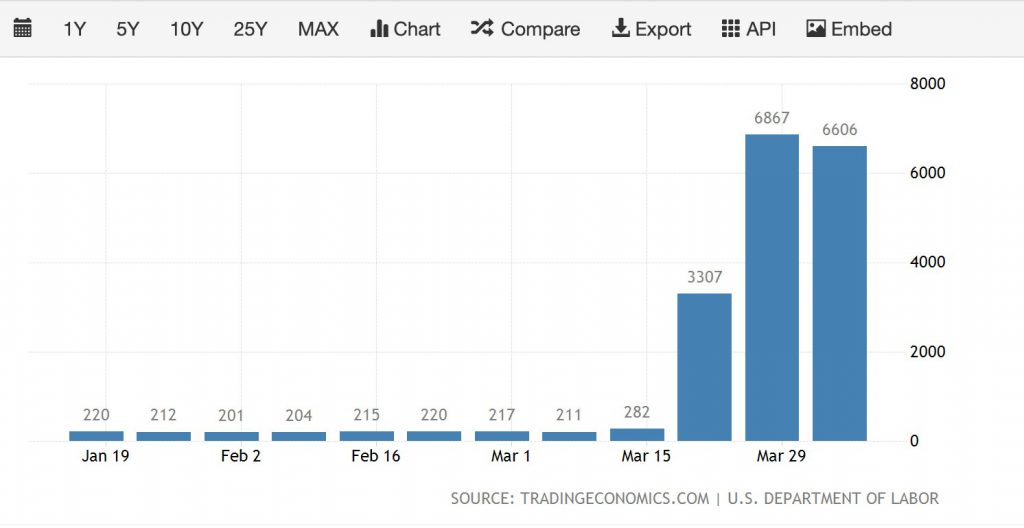 STRENGTHEN BALANCE SHEET